Introducing the new DFP website – A more personalised experience
Back to Blogs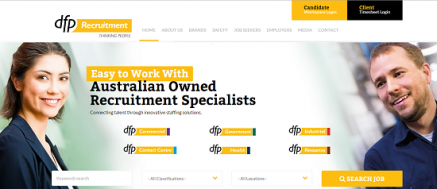 Introducing the new DFP website – A more personalised experience
​The new DFP website helps you stay connected anytime, anywhere.
DFP Recruitment is excited to introduce the new dfp.com.au., a website responsively designed to adjust to your device and platform. The new DFP website has been re-engineered to deliver a more personal experience to both clients and candidates with functional design across devices. The design is the result of a mobile-first approach that allows DFP to deliver a consistent experience for job seekers and employers on a computer, tablet or mobile phone.
Built on a new technology infrastructure, the new DFP website will incorporate improved job search features, job alerts, and link to DFP Workspace, allowing candidates to easily stay up to date with the latest jobs vacancies as well as access all the necessary resources for current assignments. The website also unveils a new media and blog feature providing both clients and candidates access to DFP's range of augmented service features, candidates resources, white papers and video content.
Take a tour of the new website now!