DFP is nominated for 2016 Telstra Business Awards
Back to Blogs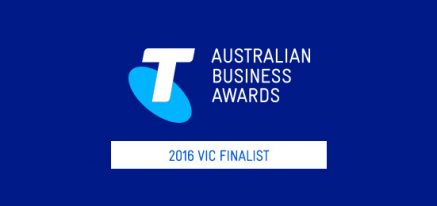 DFP is nominated for 2016 Telstra Business Awards
Being considered for an award is an honour in itself; being nominated by your peers for one is just amazing! The recognition of being a finalist in the 2016 Telstra Business Awards is humbling and encouraging for all DFP staff. It has provided our team with a sense of pride and recognition for our efforts, creating an even stronger operating environment. But this recognition was not a product of a few months or years of hard work. It is the culmination of a long held passion and dedication among 3 people who believed in the value of strong relationships.
Our DFP Chairman, Eddy Bidese and I acquired DFP (formerly Dorothy Farmer Personnel) in 2004. We brought a mutual vision to the company, a vision that after 12 months included our COO Kate Coath, together establishing our value on People, Relationships, Flexibility and Innovation.
DFP Recruitment CEO Robert van Stokrom on DFP's nomination as a finalist for the Telstra Business Awards and what it means to the organisation.
The focus we place on People has seen DFP staff tenure at levels more than twice the industry standard. The importance on Relationships has resulted in a majority of our clients working with us for more than 5 years. Embracing flexibility led us to courageously enter the Mining sector, at a time when a number of our competitors were exiting. Constantly pushing ourselves to think of new ways of working and innovation has enabled us to engage 1,600 on-hired staff across a broad section of business, industry and government. This attitude has enabled us to grow from 2 to 14 branches across Australia.
All of these accomplishments would not be possible if not for our People embracing the vision Eddy, Kate and I set for DFP years ago. Working diligently on a daily basis, has resulted in achieving industry recognition and national awards for Safety and Corporate Social Responsibility. We are a people business and our people are the reason we've been so successful. We are so proud of DFP being nominated as a 2016 Finalist for the Telstra Business Awards. Win or not , we remain very proud of our People.