Disability Employment – DFP Recruitment is a Disability Confident Recruiter (DCR)
Back to Blogs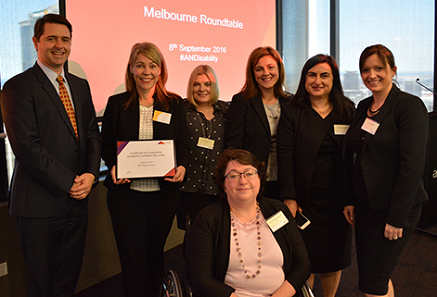 Disability Employment – DFP Recruitment is a Disability Confident Recruiter (DCR)
​DFP Recruitment is the first labour hire recruitment company in Australia to become a Disability Confident Recruiter (DCR). The Australian Network on Disability (AND) presented DFP with the DCR certificate following an intense 7 month program that began in January this year.
DFP Recruitment places great emphasis on inclusion and accessibility by providing opportunities for all people and working with clients who share in these ideas. DFP had commenced working with the NDIA at the start of 2016 and quickly developed an understanding of their desired workforce composition. With the NDIA growing rapidly, DFP needed to design a number of programs and initiatives to assist them in achieving their staffing numbers.
DFP's COO Kate Coath said "One component of that related to inclusion and it led us to reflect on our processes and question whether we were demonstrating best practice in all aspects of service delivery. Joining the DCR program was a sound strategic decision because we wanted to embed inclusion practices within our business and make it part of our everyday business activities."
What it means for DFP clients and candidates
Having achieved DCR enables our team, systems and processes to provide opportunities for candidates to access and participate equitably in the recruitment process.

With our commitment to accessibility and inclusivity, every candidate is treated with respect and equitable fair practices.

DFP staff can have confident discussions with all candidates.

Our staff can have confident discussions with clients regarding candidates with disability and any workplace adjustments that may be required.

DFP can be a reference tool for clients regarding recruitment of candidates with disability.
Our approach at DFP Recruitment is to make it easy to work with us. By creating systems and processes that support our candidates, clients and the DFP team, we continue our focus of building a culture of inclusion.
Contact us to find out more about DFP's inclusive recruitment practices.