At DFP we are passionate about innovative ways of working that create value for our clients. We are excited to announce our partnership with Sova to access their online Talent Assessment Platform that hosts a range of digital assessment tools.
Combining the latest science and technology, the platform utilises organisational psychology to power assessments that deliver fair and improved outcomes.
What does the platform offer?
Fully virtual and configurable, the platform can be personalised to incorporate employer branding, role-specific content, company values and behaviours.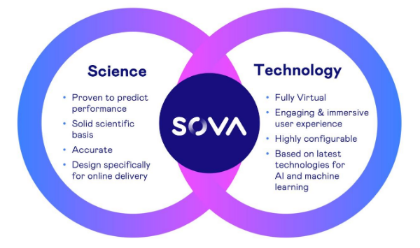 Features include:
A blended approach with options to include situational judgement, personality, motivation and cognitive ability in a single assessment experience

Video Interviews

Bespoke Digital Assessment Centres including multiple conference room features to support candidates and Assessors

Full reporting including customised candidate feedback

Entry level to Leadership assessments
Why is Sova great for candidates?
Offers a personalised and seamless assessment experience

Optimises engagement via video animation and immersive content

Time efficient process
Why is Sova great for you?
Improved accuracy through whole-person assessment

Increased conversion rates

Improved diversity, less bias

Time and cost savings

Enhanced candidate experience
Access the SOVA brochures below to learn more about each feature.
For more information please contact Tom Hatch on 03 8632 9952 or thatch@dfp.com.au