Parental leave for men – Changing the fear factor
Back to Blogs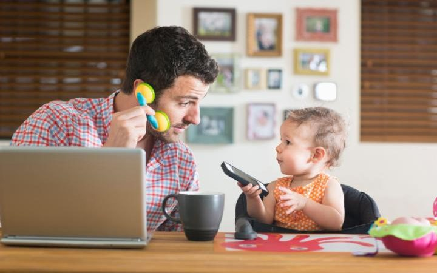 Parental leave for men – Changing the fear factor
​The following article was published in the Australian Financial Review (AFR) by Rebecca Greenfield on Jun 21 2016 at 2:45 PM
Should men be afraid to take parental leave
Men not taking time off to care for newborns, it turns out, is a difficult cultural norm to overcome. Parental leave policies that offer the same amount of time off to all new parents are on the rise. Yet fathers still don't want to take it.
They're afraid. Men still think their careers will suffer if they take leave, according to a new Deloitte survey out this week. More than one-third of the 1000 respondents said they felt taking leave would "jeopardise their position" at work. More than half said it would be perceived as a lack of commitment, and another 41 per cent worried they would lose opportunities on projects.
These fears aren't unfounded. Women have historically been penalised for taking time off for all the reasons cited by men: parental leave often jeopardises their position, deprives them of opportunities and places them at a disadvantage to non-mothers.
In fact, countries that offer more liberal parental leave policies have larger pay gaps, according the Organisation for Economic Co-operation and Development, because women tend to take more time off than men. It follows, then, that if men act like women, they will also face the same discrimination. Hence the fear. But men actually have less to worry about, it turns out. Research has found that having a child boosts men's careers. They get a "fatherhood bonus": their earnings increase more than 6 per cent for each child they have, one study found. Part of that has to do with the fact many don't take time off. But men are also perceived differently from women. Fathers are seen as being responsible, while mothers are perceived as distracted.
Parental leave policies are supposed to even out these imbalances, ensuring new mothers aren't the only ones putting a dent in their career.
All-encompassing leave policies shift some childcare responsibilities onto men, so they too can be seen as having priorities other than work. Everyone loses, so everyone wins.
"It has been historically difficult for women," head of Deloitte's Women Initiative Deepa Purushothaman said. "By encouraging all of our employees to take it, more women will take it."
The absence from the office of men and women alike theoretically helps close the gender pay gap.
Of course, all this works only if men actually use the benefit, which, for competitive reasons, they have been hesitant to do. But the male fear factor is slowly changing: about one-quarter of eligible fathers are taking advantage of California's paid family leave, up from 17 per cent five years earlier.
Companies offering parental leave have also attempted to remove some of the stigma. Both Etsy and Twitter, which this year expanded their leave policies, train managers to avoid bias against working parents and to support their careers while they care for newborns.
Other organisations lead by example: Facebook's chief executive Mark Zuckerberg took two months off to care for his child.
"What I'd like to see is we encourage both our men and women to take it, where it is OK for both genders to take generous parental leave," Ms Purushothaman said. "It's something as a culture we need to stress and make easier to do."
Bloomberg
Find out more about Generating Innovation and Commitment to Gender Equality and register for our forum in Melbourne on 20 July 2016.