Why you shouldn't arrive too early for your interview
Back to Blogs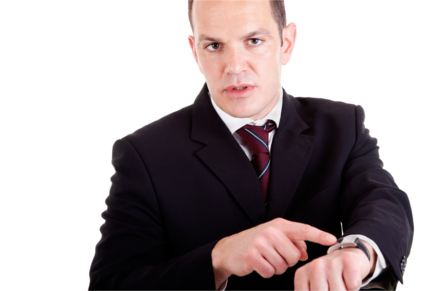 Why you shouldn't arrive too early for your interview
When it comes to interview preparation, most job seekers would attest to the many articles they have come across emphasising the importance of arriving on time for their interview. Being late to an interview is clearly the worst possible start, and it's hard to make up for it from there! While there's plenty of focus on avoiding a late arrival, the same can't be said for the opposite phenomenon – arriving early! Perhaps it's because arriving early is a good thing? Or is it?
It could very well be a by-product of all the attention placed on tardiness, but many recruiters are sighting early candidate arrivals to interviews as a growing concern.
What is the right time?
Some candidates are so mindful about being on time they often arrive much earlier than they should. Generally speaking, arriving 5-10 minutes early for your interview is a good habit to develop. If you're more than 15 minutes early, you're doing more harm than good to your chances. DFP Consultant Joshua Rudd states that it's equally challenging to deal with candidates who arrive too early for their interview. "It's not beneficial for candidates to arrive 20-30 minutes early for their interview as I'm often not able to accommodate them earlier. This results in a long wait for the candidates which in some cases leads to increased nervousness and a poor interview performance".
What's wrong with being too early?
Many job seekers don't realise that showing up too early can create a poor first impression. Regardless of how badly you need the job, or how excited you are about getting it, arriving more than 15 minutes earlier for your scheduled interview creates a negative impression. It doesn't speak much to your time management skills and signals that you have too much time on your hands. It may also show a sense of over-eagerness or even desperation.
Hiring Managers are busy people who schedule interviews around other work. By showing up more than 15 minutes early, it's likely that you're interrupting their work and being an annoyance. That's the last thing you want the interviewer to feel given that you need them to be on your side. Sitting at reception and waiting for your interview can have a negative impact on yourself as well. All the extra time spent waiting could allow your mind to drift and lose focus on the task at hand. You don't want to be over thinking your interview answers and allow your nerves to psyche you out.
What should you do instead?
If you have had a breezy run to your interview, and find yourself unexpectedly earlier than 15 minutes, don't go into the company premises or check-in. Either find a quiet place or a café to have a quick mental rehearsal of your interview preparation or even do so in your car if need be. When you eventually walk through the doors of the company you'll be calm and prepared, giving yourself the best chance to succeed.​