Transferring your accomplishments to your resume
Back to Blogs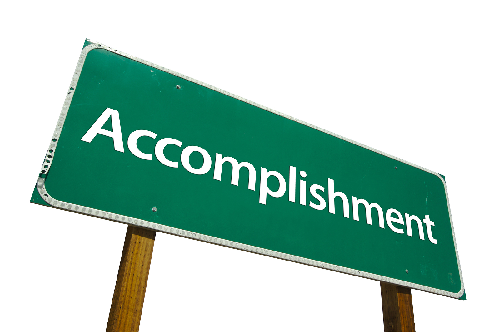 Transferring your accomplishments to your resume
​One of the keys to a successful job application is a detailed listing of accomplishments in a candidate's resume. Not only does this allow your resume to stand out, but it also helps you by providing clear talking points for your interview. Each of us, in all the jobs we have had during our careers, have accomplished many things that were important to the companies we worked for. These accomplishments are the evidence that we can work effectively, that we can and do use our skills to good advantage.
It is crucial for you to prepare an extensive list of accomplishments, which will play a vital part in your job search campaign. It will provide you with a clearer understanding of your abilities along with a clear picture to your potential employer of what you have accomplished. Specifically, it will gauge your work performance in terms of contribution, impact and skill as opposed to a job title.
To prepare yourself for an effective job search, it is necessary for you do to an in-depth study and inventory of your past accomplishments. A thorough effort in this area will provide you with:
an immediate awareness of things that you have done well

the necessary information to identify your skills

the base for a strong resume and a solid job interview
Some of the questions you can ask yourself and others are:
Did you participate in or prepare any reports, papers or documents?

Did you take the initiative in confronting any problems, opportunities or challenges?

Did you develop something?

Did you identify a need for a plan, program, product, service, procedure, etc?

Did you participate in any direct or indirect technical contributions?

Did you contribute directly or indirectly to any administrative or procedural recommendations?

Did you implement or participate in any sales and/ or profit and/or cost saving recommendations?

Did you actively participate in any management decisions or organisational changes? (Hiring, terminating, salary, new projects, etc.)

Did you create or design a new department, program, procedure, plan, service or product?
Examples of Accomplishment Statements:
Dealt effectively with difficult customers

Worked under pressure and maintained a high level of performance

Completed work within a tight deadline

Reached (or exceeded) targets set by my Line Manager

Improved consumer awareness of product range over a 6-month period

Reduced reject rate from 15% to less than 5%

Developed and installed a unique laboratory process that eliminated duplication, encouraged co-operation, and reduced costs by $40,000
How to Effectively Word Your Accomplishments:
Accomplishment statements can express what you did, how you did it and the outcome for the organisation. They should act as evidence of your ability and skill whilst highlighting the benefit received by the employer.
A quantitative measurement should be used, where possible to substantiate the result.
Example – Compare this broad claim: "Significantly increased overall productivity"
With this concrete summary of an achievement: "Increased assembly output17%in six months while reducing error rate by4%."
Make sure to go through several "re-writes" before the accomplishment statement is finalised. When your list of accomplishments is finalised, you must become skilled at recalling each one, providing back up information and applying it appropriately in an interview.
Keep in mind that all employers are looking for transferrable skills. Being aware of your strengths and accomplishments and how they will add value to a prospective employer are paramount to your success.